Finally Anyone Can Easily Create Fully Responsive Websites
OMAHA, NE – February 10, 2017 – Summitsoft Corporation announced today the release of Website Creator 12, the first website designing software that incorporates fully automated Responsive Website components. Now visitors to your website will always see your web pages at their best, whether they navigate on a desktop, tablet or smart phone. It is estimated that over 65% of all web traffic is now coming from mobile devices like smartphones and tablets. Make sure your site is ready to shine on those devices.
You don't need any programming skills to create a gorgeous website, with the intuitive visual interface and Drag & Drop simplicity. Make the most of all the advanced features that Website Creator 12 offers to create eye-caching sites.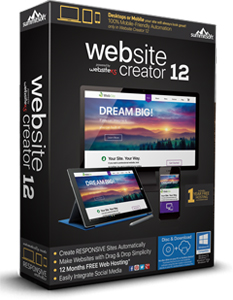 A few of the many features in Website Creator 12 include:
Graphic Templates
Over 1000 ready to use graphic templates to chose from with many of them being full screen background images.
Get Social
Add Facebook, Twitter or LinkedIn to grow your online presence. Connect your social accounts to your blog and get popular on the web.
SEO and Analytics
Website Creator 12 generates the HTML5 code and CSS3 to get your site indexed quickly. So you'll be easy to find on Google, Bing and other search engines.
Pictures, Videos and Galleries
Add captivating content: chose animated galleries, panoramic photos, videos, music and more.
Sell Your Product Online
Complete Shopping Cart functions with credit card payment facilities.
Powered by Website X5
Millions of people have chosen the Website X5 engine to create successful websites worldwide.
One Year Free Website Hosting
Website hosting provided by One.com, a global leader in website hosting with 24/7 chat support.
About Summitsoft
Summitsoft Corporation is a publisher of productivity software products, creating innovative business solutions for professionals and home users. Summitsoft offers software through major retailers in North America, South America, Australia, the United Kingdom, South Africa and Europe, as well as on the Internet.
Press Contact:
Lynn M. Rudolph
Media Relations
Summitsoft Corporation
lrudolph@summitsoft.com