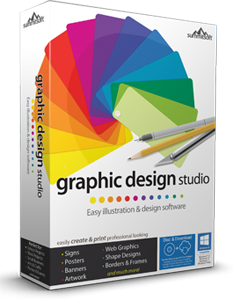 Create Beautiful Graphic Art
Graphic Design Studio makes it easy for anyone to create incredible graphic designs. From banners to flyers, cards to coupons, the tools and canvas, provide you with a flexible workspace to create graphics for any size print or for the web.
Draw or Design your Creation
Stretch, pinch, and re-size shapes or hand draw your images with the pen and pencil tools to create one-of-kind graphic art, limited by only your imagination.
Transform Text and Fonts
Make any text awesome and jump off your banner with total text control that gives any font a creative edge. Control the color, size, and shape. Add gradients, shadows, and other effects to any font on your computer.
Edit Clip Art and Graphics
Resize any .svg vector image to match any size project with one of the many easy to use and flexible design tools. Add solid and artistic strokes, fill backgrounds with textures, and blend images to create 3D effects, or any of the other vector tools add your own artistic touch!
Graphic design for any project
One Program. Unlimited Projects.
Graphic Design Studio gives you the tools to create eye-popping graphics for any project. Not sure where to start? Check out the hundreds of Design Inspirations included to get you going.
Make signs, flyers, backdrops, and t-shirts for any occasion
Create yard signs, door hangers, and billboards for special events
Design tickets, programs, and banners for exhibitions
Flexible Tools for any Project
Create on an open Canvas
Whether you need to create banners, buttons and graphics for your website, or design large-scale, billboard-sized images, Graphic Design Studio has you covered. The flexible, open canvas can create graphics in any size and any amount of detail that you need. With layers, changing parts of your design is simply a click away.
Export to Professional Formats
Easily export your work to professional, industry standard formats to use in other projects or send to printers. Save your work as PDF, PNG, JPG, TIF, GIF, SVG, EMF, XPS, BMP, and WPD formats.
Incredible Special Effects
Add a creative touch using professional effects that get noticed. Lift your logo off the canvas with a shadow, add a 3D bevel technique and so much more to give your design your unique look.
Inspiration for any Project
Choose from over 100 professionally-created Design Inspirations to help get you started. Dozens of pre-designed posters, web banners, signs, postcards, illustrations and postcards to choose from. Simply choose the Design Inspirations that looks the most interesting to you, open it up and modify it with the flexible, intuitive drawing tools.
Graphic Design Tools for Everyone
Start with one of the hundreds of included Design Inspirations to add graphics to flyers, posters, or websites.

Start with one of the free Design Inspirations to jump start your project and design with ease.

Add text utilizing your own fonts or the ones included with Graphic Design Studio to get express your message.

Enhance your design by adding layers and clip art.

Make your design jump off the page with professional effects like drop shadow and outlines.

Give the canvas a make over by adding a solid color or a pattern to the background.

Fill out your design by adding lines, circles, or any of the other shapes in Graphic Design Studio.

Finish your project by importing objects (such as images) into your design.