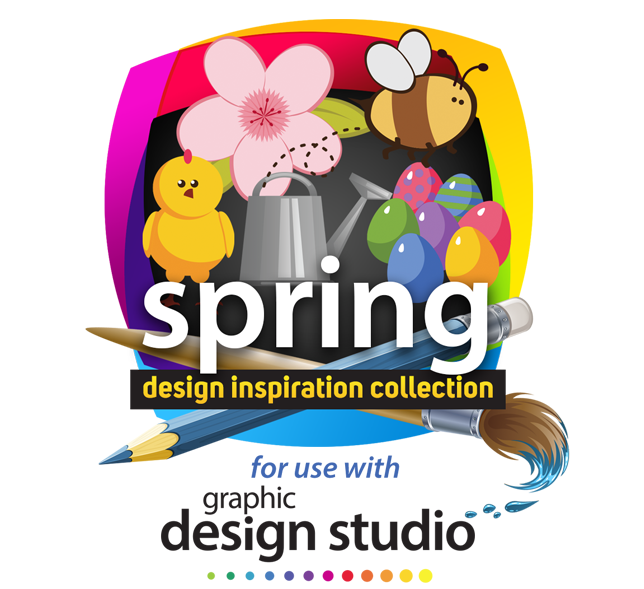 Add more:
design templates,
graphics & fonts
to
Graphic Design Studio
Spring Design Inspiration Collection
Bring spring to your graphic designs
New objects, artwork & templates designed by professional graphic artists
50 new pre-designed graphic templates spring events
Over 100 new graphic objects in SVG format (Scalable Vector Graphics) gives you a creative inspiration to your designs
15 spring inspired fonts
Perfect for creating graphics for programs, cards, website graphics and more
Installs for instant use in Graphic Design Studio
All objects & templates are royalty free
A sample of the templates and graphics in the Spring Design Inspiration Collection:
The Spring Design Inspiration Collection refreshes your design gallery with new ready made posters, signs, and flyers for Graphic Design Studio. The Spring Collection includes graphics and fonts for any project as well as pre-made, customizable signs, posters, flyers, and more to inspire you with your spring event. All templates, graphics and artwork are royalty free and immediately downloadable to add to Graphic Design Studio . The objects are in SVG format; SVG (Scalable Vector Graphics) allow you to fully edit each object to make unique new looks…a creative advantage no other application includes.
System Requirements
This expansion pack is only compatible with Graphic Design Studio
Operating System: Windows® 11, Windows® 10, Windows® 8/8.1, and Windows® 7
Memory: 512Mb Ram
Hard Disk: 30Mb