Comic Creator Studio
Comic Creator allows you to create comic and manga in minutes and is perfect for any comic or design lover! Styles perfect for sci-fi, cartoons, kids, manga, and more are included. Instantly add pages, page layouts, backgrounds, characters, props & dialog to tell your story in a visually dynamic setting. Print & publish your comics, or animate your comic pages to show off online.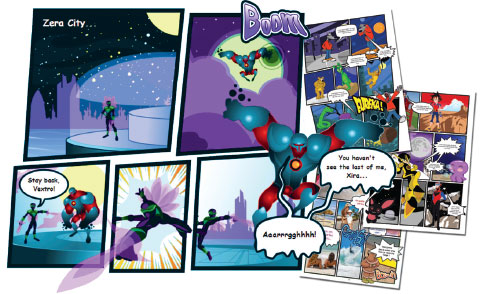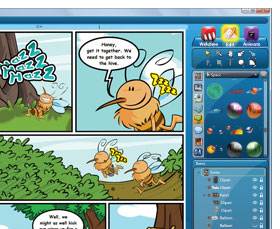 Comic Creator Is Easy To Use!
Comic Creator's simple user interface allows you to create your comics and make all of your adjustments with just a few easy clicks. We provide you with a drag & drop interface as well as 500+ backgrounds and characters to tell your story.
Dozens Of Flexible Tools
Everything is included in Comic Creator to allow you to enhance your comics including powerful text effects including comic text art, captions and word balloons, drawing and illustration tools including color and shape tools, special effects and much more!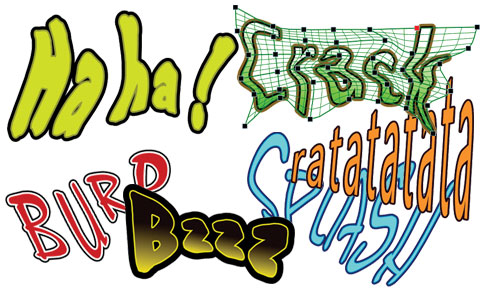 Print or Publish Your Comics Online
It's easy to print your comic pages, publish online or get creative and make shirts, puzzles, calendars, mugs or anything you can think of!
Comic Creator Features
1
Instant drag & drop comics – You don't need to be a professional artist to design your own comics. Simply drag and drop whatever you need onto the page to see instant results.
Balloons & text effects – A picture may say a thousand words, but dialog and expressive text help guide the storyline. Add text to word balloons, and add stretchable text to visually show an action or express a character's mood.
Drawing & illustration tools – Leave the artwork to yourself. Use Comic Creator's professional drawing and shape tools to illustrate your comics from scratch.
Rich color control – Make colored comic panels pop by using grayscale on surrounding panels, add gradients to shape fills and strokes, and adjust other color aspects of your comic pages to create striking results.
Animate your comics – Bring your comics to life by animating your comic pages. Check the timeline to control your animation and use zooming tools to organize your entire comic book into a visual story!
Print or publish online – Publish your comic masterpiece! Print to PDF or post online in HTML, CBZ/CBR, WMV or Microsoft Silverlight format.
Comic Creator Screenshots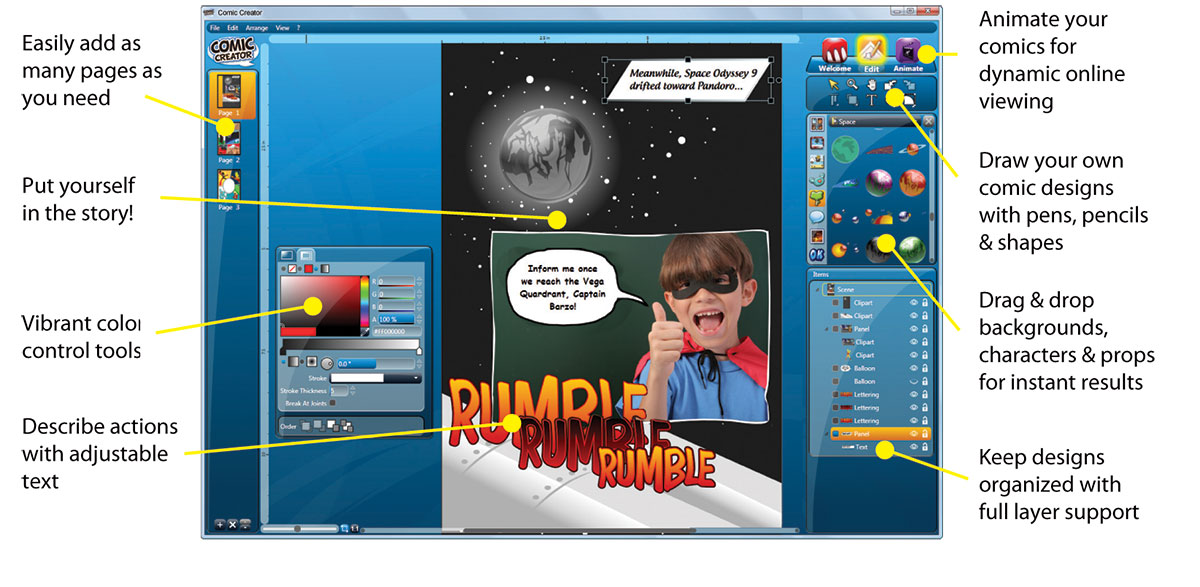 Even More Comic Creator Features
1
Easy drag & drop interface
Powerful drawing & illustration tools
500+ backgrounds & Characters
1000+ music samples & sound effects
Customizable page templates & panel layouts
Import your own images & pictures
Image editing & FX
Comic text styles
Text captions & word balloons
Special effects to show action
Animate your comics
Keep designs organized with full layer support
Print or publish to the Internet
System Requirements for Comic Creator:
Windows® 11, Windows® 10, Windows® 8
Pentium® 400MHz processor or faster
512MB RAM
600MB hard drive space