The tools every Windows user needs
SystemTECH Pro has all the tools to get your PC running like new again, regain disk space, protect your privacy against intruders, create encrypted backups and much more.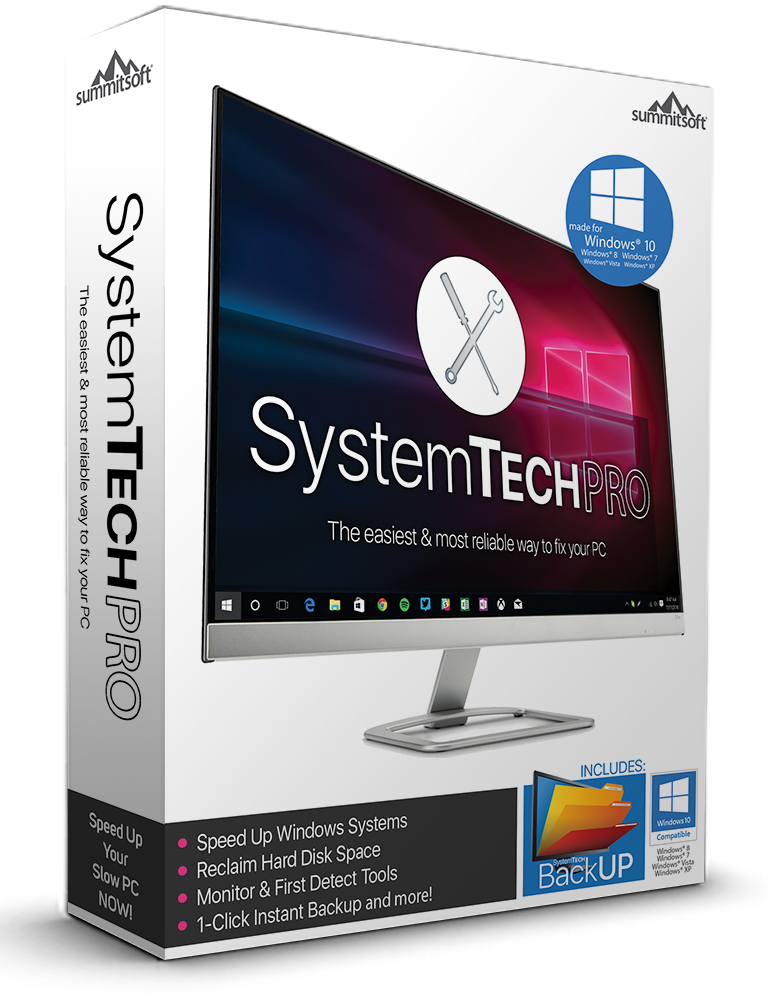 Remove System Clutter
Countless duplicate, junk and temporary files are created and added to your hard drive over time. The more you use your PC, the more clutter clogs your system and slows performance. Use SystemTECH Pro to quickly regain speed and securely delete unwanted files.
Speed Up Your PC
Get your PC's speed back with SystemTECH Pro's powerful optimization tools. Remove unnecessary start up items and speed up the time it takes to boot your PC. Even new computers come pre-loaded with things you don't need, safely clean them off and watch your performance increase.
Safe and Secure
Malicious programs hide on your system and can cause serious problems. SystemTECH Pro's First Detect and Monitoring tools find any suspicious programs or activities to keep you protected from these threats. Protect your sensitive information and data with the Windows and Internet tracks eraser.
Set It and Forget It!
Your time is valuable and you have better things to do than sit around while your PC runs cleaning tasks. Simply schedule SystemTECH Pro to run Auto-Cleanup whenever you want, just set the time and frequency you'd like to run and rest easy.
BackUp ST – The Most Secure Back Ups
As an added bonus we've included our Enterprise Level Protected Backup software, BackUp ST (a $39.99 value) to keep all of your sensitive data, important files, precious memories and financial information safe and secure. BackUp ST uses the same high-level technology that most major companies employ to keep their information safe.
Keep your computer safe
SystemTECH Pro's Monitoring and First Detect tools keep your system safe from malicious programs that can make their way onto your computer. There's no end to the constant barrage of attacks and malware that our computers are exposed to every day. Use SystemTECH Pro to monitor and detect these problems and keep your PC and data safe from harm.
Erase Tracks
Keep your personal information secure by erasing Internet history, cache, cookies, auto fill forms and more. You can even clean your Windows histories and data.
Power Tools
Easy access to Defrag, Disk Fix and Repair System Files with desktop icons. Customize your desktop with wallpaper changer and screen saver controls.
1 Click Instant Backup
Easily create a System Restore point with customizeable options. Save the time and effort of manually setting up restore points, which can be a daunting task.
Healthy PC
Customize your preferences on what to clean to keep your system running at peak performance.
Protect EVERY PC in your home
You can install SystemTECH Pro on every PC in your home for one low price – no hidden costs or subscription fees – just award winning protection for your entire family.
System Requirements
Operating System: Windows® 11, Windows® 10, Windows® 8/8.1
Hardware:233Mhz Processor
Memory: 256Mb RAM
Hard Disk: 830Mb Hard Drive space
Internet Connection for installation