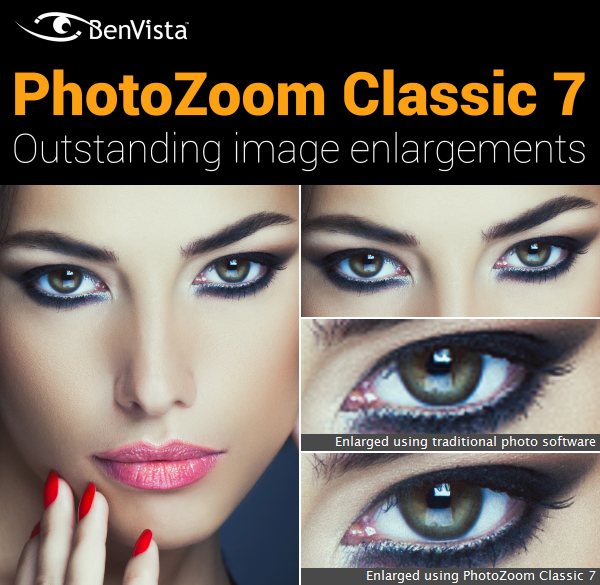 PhotoZoom Classic 7
Easy-to-Use Interface
Take photos from ordinary to outstanding with BenVista PhotoZoom Classic 7. With patented, award-winning S-Spline XL technologies, resizing photos with clarity and sharpness is easy and fast. You can even enlarge and improve photos from the internet. A set of highly effective tools allows you to crop photos, enlarge images up to 300,000 x 300,000 pixels and fine-tune with perfection. PhotoZoom Classic 7 is compatible with Windows 10 and can run as a stand-alone application. The possibilities are endless… Discover how much fun you can have with your photos!
Preset And Preview To Perfection
Fine tune a variety of photos and graphics with ease by creating and saving your own presets, using a simple set of highly-effective tools. Get a preview of the final result with a large preview window then determine the optimum settings. The results come up instantly for every image. For a live comparison, split the preview window and see the difference between resized files.
Higher Quality Enlargements
Turn your home photos into spectacular show-worthy shots! The cutting-edge S-Spline XL technique creates true-to-nature image enlargements with the sharpness, crispness and clarity. State of the art features outperform Photoshop's Bicubic interpolation attributes.

Crop Photos Beautifully and More!
Improved crop features allow you to select and resize specific portions of your images. Just the thing for perfecting close-ups! Easily fix photos from the Internet. A special setting removes undesirable JPEG compression artifacts and noise. PhotoZoom Classic 7 can be used as a stand-alone application and supports the latest versions of Windows.
PhotoZoom Classic 7 Features:
Superior Quality! Easily enlarge photos without losing quality or details (up to 300,000 x 300,000 pixels)
Image Enhancement! Reduces (JPEG) compression artifacts and noise, even from low quality originals
Easy to Use! Advanced fine-tuning tools, create your own presets and resize profiles
Split screen previewing! Compare different resize methods at a glance
Powerful crop tool for spectacular close-ups
Supports raw images
Uses S-Spline XL technology for crisp, clear images
Works as stand-alone application, Photoshop not required
Compatible Microsoft Windows 10 (64-bit & 32-bit)
Multi-language support
System Requirements
Windows® 8, Windows® 10, Windows® 11
Pentium®-compatible processor
1 GB RAM, 50 MB free hard disk space
¹Administrator privileges are required to properly install the program on Windows® 8, Windows® 10
Important Installation Note: Please disable any Antivirus and/or Firewall software that you have running before installing this software. After the installation has completed and the product has been updated, you can re-enable your Antivirus and/or Firewall software.