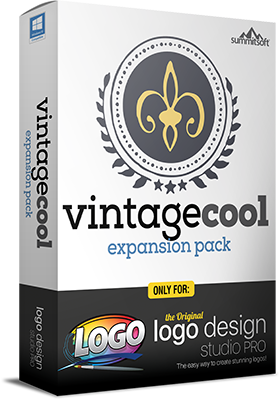 Classically Inspired Logos and Graphics for Logo Design Studio Pro
Created by Summitsoft's professional designers, Vintage Cool includes high quality classic logo templates. All the fonts, logos, and graphics included in Vintage Cool are vibrant, full-colored designs ready to make an bold impact in your logos design.  The accompanied Design Guide provides color inspirations that are popular among logo designers today.
Logo Inspiration
Vintage Cool templates give you a unique look from the past. Our design team has consulted with designers, directors and industry professionals to create bold designs for your use and inspiration.
New Fonts for your New Logo
Vintage cool includes hand-picked fonts to match your new logo. These fonts are designed by us and are licensed for commercial use and royalty free.
Classic Color Inspiration
With Logo Design Studio Pro, creating custom colors is easy! The Vintage Cool Design Guide includes hand picked colors and color combinations with RGB values so you can use these retro colors in your own designs.
Hand-made professional graphics
Need your logo on the side of a building? No problem. All of the graphics and inspirations included in Vintage Cool are 100% vector so they will stay clear and sharp at any size.
**This expansion pack is only compatible with Logo Design Studio Pro
Operating System: Windows® 10, Windows® 8/8.1
Hard Disk: 30MB