Logo Design Studio Pro
Easy logo creation software. Professional results.
#1 Selling Logo Design Software for 15 Years
You know your business, we know logos. Over the years, millions of logos have been created with Logo Design Studio Pro. We partner with you and provide the tools, objects, inspirations, and guides you need to help you create a one-of-a-kind logo that is personal and professional. With countless tools and hundreds of options, there is no limit to what you can create! Let us show you how easy it is to make your first logo.
With Logo Design Studio Pro, every design you create

you own

! No hidden fees or licensing agreements.
Start with your business name or one of the included templates and change the font.

Change the shape of the letters, add an object, and color.

Bezier editing visually shows adjustable nodes you can move to change the look of shapes, text and curves.

Vector graphic tools give you the power to shape objects any way you like.

Take control of an object's or background's colors with a selection from the palette or entering your own customized colors.

Draw even more attention to your logo with effects and you are done!
Here are a few of the logos made with Logo Design Studio Pro
Powerful tools at your fingertips
Go Big with Vector Graphics
With Logo Design Studio Pro, you never have to worry about your logo looking fuzzy or pixelated when enlarged. The built in vector tools and graphics allow you to scale your logo to any size without losing sharpness or clarity. From web images to letterheads to billboards, your logo will look perfect in any size and in any place.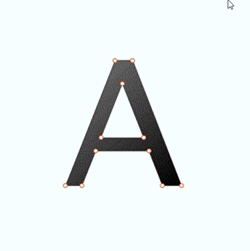 Unlimited Customization
Start with one of 2,000 customizable templates or one of the 6,000+ vector shapes, images, fonts, or graphics and use the advanced drawing tools to create your own completely unique shapes. The intuitive and flexible toolset is equipped to handle the most advanced logo design needs. All royalty free and ready for commercial use!
Incredible Special Effects
Add a creative touch using professional effects that get noticed. Lift your logo off the canvas with a shadow, add a 3D bevel technique and so much more to give your design your unique look.
Vector designs are not limited to a specific size because they are made up of connected lines and curves, rather than a collection of pixels that make up raster designs.

You can pick colors from the color palette enter the exact hexidecimal as well as change both the gradient color and gradient direction of shapes and text for a variety of looks.

Add standard, solid or stroked text, wrap text around shapes, place text on a path, or convert your text into an editable shape using Bezier tools.

Bezier editing visually shows adjustable nodes you can move to change the look of shapes, text and curves. Easily undo any change you don't like.

Over 2,000 industry-specific logo templates to fit your business. Customize with your own text and colors and then export to use anywhere.
Your logo's your brand, use it anywhere!
"Make your brand contagiously buzz worthy" – C.M. Jackson
Your logo is the face of your business and is a reflection of your company's personality and culture.
As your brand identity, you want a compelling, professional logo useable everywhere to attract customers.
Your logo is more than just your name. In fact, your name doesn't have to appear at all. Whether it is an image, design, or icon, in order to be taken seriously, you need to have a professional looking logo.
We are here to help!
After you have created your logo with Logo Designer Pro, you can send it to our design team. Use Logo Design Studio to create your logo then our team of Logo Experts evaluate it and give you tips and pointers to make it the best it can be. We even create a few new logos for you based on your design!