Create beautiful graphic designs and vector illustrations with Graphic Design Studio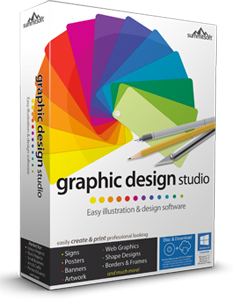 Summitsoft Corporation has recently released its illustration and design software titled "Graphic Design Studio", bolstering its industry-leading productivity software portfolio. This powerful graphic design software offers tools for all experience levels and includes 2,000+ pre-designed vector graphics and royalty free images.
The software's vector-based objects allow for infinite scalability since, unlike raster images, does not require individual pieces of information to create a full image. This allows users to scale the image up or down as much as much as they desire without losing any image quality. In addition, the vector-based objects allow for efficient edibility since users can modify individual elements of their images without affecting other objects in or around each image.
Graphic Design Studio, along with its detailed help guide and drag and drop technology, makes Summitsoft's latest offering one of the most user-friendly and affordable graphic design titles on the market. Here are a few other highlights of the highly-anticipated illustration software:
Flexible tools including full layer support, powerful Bezier editing tools and support for SVG files

65+ commercial use fonts

Over 100 Professionally-created design Ideas including posters, postcards, web banners, and more

A flexible, open canvas to create graphics in any size and any amount of detail
Graphic Design Studio starts at a retail price of $49.99 and is compatible with Windows® XP, Windows® Vista, Windows® 7, Windows® 8, Windows 10 operating systems on PCs with a with Pentium 400 MHz or higher processor. To learn more about the newly-released software, visit Summitsoft.com.
About Summitsoft Corporation
Summitsoft Corporation is a top-ten publisher of productivity software products, creating innovative business solutions for professionals and home users. Summitsoft offers software through major retailers in North America, South America, Australia, the United Kingdom, South Africa and Europe, as well as on the Internet. For additional information please visit our website at www.summitsoft.com.