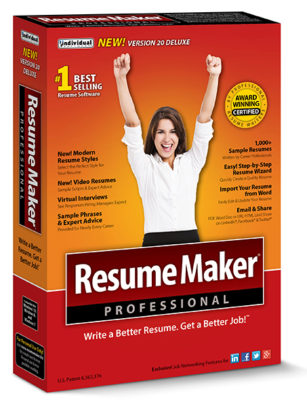 Resume Maker Professional Deluxe
Write a Better Resume, Get a Better Job!
Resume Maker's step-by-step guide will help you create a professional resume that showcases your experience, skills and capabilities to apply for positions and share on social media networks to get a better job.
Build A Professional Resume Fast!
Resume Maker has powerful tools to help you land your dream job. Create resumes and cover letters, share your resume via e-mail and social media, and search for jobs and prepare for interviews. You'll have all the tools you need for a complete job search.
5 Easy Ways to Create a Professional Resume:
1. Step-by-Step Resume Guide
Your answers to easy questions are transformed into the perfect resume. Add, change, or delete at any time.
2. Start with a Professional Sample Resume.
Select a professionally-written resume from 1,250 samples for nearly every career. Customize it with your own information to create a quality resume!
3. Quick & Easy Resumes
Create a resume by selecting phrases from 14,000+ job types. Customize by selecting the resume phrases that describe your experience. It's that easy!
4. Resumes Created in ResumeMaker
Open a previously saved resume in ResumeMaker and use a copy to quickly edit. Then choose from powerful phrases, words, and expert advice to enhance your resume.
5. Import Your Resume from Word
Import a resume from Word and edit and update the content using the Resume Editor. Choose from powerful phrases, words, and expert advice to enhance your resume. Then apply the resume style that reflects your unique qualifications and experience.
Search & Apply For Jobs
Whether at home or on-the-go, ResumeMaker makes it easy to search jobs fast. Be the first to find new jobs and never miss a new opportunity! Search all major job sites including Indeed, Career Jet, Dice, and Zip Recruiter to locate millions of job openings in your search area. Filter criteria for keywords, job title, type of company, geographic area, salary requirements and more! See the job search results by job site and view the specific job openings of interest.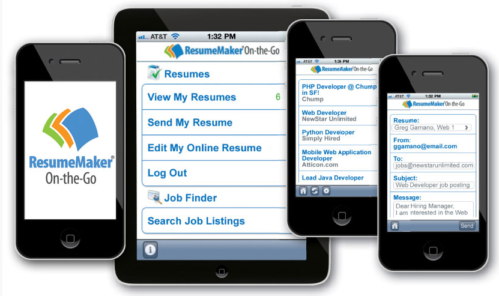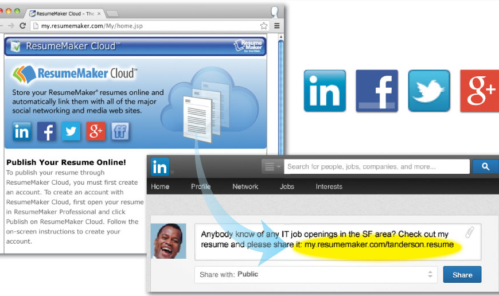 Publish & Save Your Resumes Online
Publish your resume at your own private web address in the cloud—a free service managed by ResumeMaker. Send a URL of your resume to hiring managers, recruiters, and network contacts. Share your resume in multiple formats including PDF, Word Doc, or a URL HTML Link.  ResumeMaker allows you to post your resume on popular social media sites like LinkedIn®, Facebook®, Twitter®, and Google+™. Make it easy for colleagues, friends, and hiring managers to access your posted resume.
System Requirements
Microsoft® Windows® 11, Windows® 10, Windows 8, Windows 7 • 350 MB Hard Disk Space • 1024 x 768 or higher display • Sound Card and Speakers • E-Mail and Internet Access • Windows Tablet: Windows 8 • 350 MB Hard Disk Space • Keyboard recommended